132789
The Hole In The Ground
Synopsis
Trying to escape a broken past, Sarah is rebuilding her life on the fringes of a rural town with her young son, Chris. A mysterious sinkhole is discovered in the vast forest bordering their new home. Sarah must battle to discover if the disturbing changes that manifest in her little boy are a transformation driven by something more sinister and threatening than her own maternal fears.
Film Credits
Writer:
Lee Cronin
Stephen Shields
Starring:
Seána Kerslake
Eoin Macken
Simone Kirby
James Quinn Markey
Kati Outinen
David Crowley
Steve Wall
More Information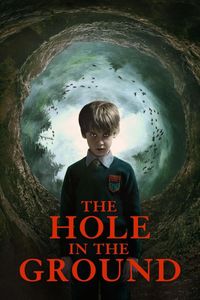 Rating:
R
Restricted. Children Under 17 Require Accompanying Parent or Adult Guardian.
An R-rated motion picture, in the view of the Rating Board, contains some adult material. An R-rated motion picture may include adult themes, adult activity, hard language, intense or persistent violence, sexually-oriented nudity, drug abuse or other elements, so that parents are counseled to take this rating very seriously. Children under 17 are not allowed to attend R-rated motion pictures unaccompanied by a parent or adult guardian. Parents are strongly urged to find out more about R-rated motion pictures in determining their suitability for their children. Generally, it is not appropriate for parents to bring their young children with them to R-rated motion pictures.
Country:
United Kingdom, Finland, Ireland