Synopsis
The story of medical school dropout Wallace, who's been repeatedly burned by bad relationships. So while everyone around him, including his roommate Allan seems to be finding the perfect partner, Wallace decides to put his love life on hold. It is then that he meets Chantry an animator who lives with her longtime boyfriend Ben. Wallace and Chantry form an instant connection, striking up a close friendship. Still, there is no denying the chemistry between them, leading the pair to wonder, what if the love of your life is actually your best friend?
Film Credits
Producer:
André Rouleau
Macdara Kelleher
David Gross
Marc Stephenson
Jesse Shapira
Jeff Arkuss
Starring:
Megan Park
Zoe Kazan
Rafe Spall
Adam Driver
Daniel Radcliffe
Mackenzie Davis
More Information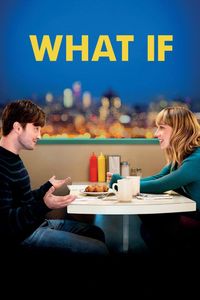 Rating:
PG-13
Parents Strongly Cautioned. Some Material May Be Inappropriate For Children Under 13.
A PG-13 rating is a sterner warning by the Rating Board to parents to determine whether their children under age 13 should view the motion picture, as some material might not be suited for them. A PG-13 motion picture may go beyond the PG rating in theme, violence, nudity, sensuality, language, adult activities or other elements, but does not reach the restricted R category. The theme of the motion picture by itself will not result in a rating greater than PG-13, although depictions of activities related to a mature theme may result in a restricted rating for the motion picture. Any drug use will initially require at least a PG-13 rating. More than brief nudity will require at least a PG-13 rating, but such nudity in a PG-13 rated motion picture generally will not be sexually oriented. There may be depictions of violence in a PG-13 movie, but generally not both realistic and extreme or persistent violence. A motion picture's single use of one of the harsher sexually-derived words, though only as an expletive, Classification and Rating Rules Effective January 1, 2010 8 initially requires at least a PG-13 rating. More than one such expletive requires an R rating, as must even one of those words used in a sexual context. The Rating Board nevertheless may rate such a motion picture PG-13 if, based on a special vote by a two-thirds majority, the Raters feel that most American parents would believe that a PG-13 rating is appropriate because of the context or manner in which the words are used or because the use of those words in the motion picture is inconspicuous.
Genres:
Comedy
Drama
Romance